In February of 2020, RMS performed a turnaround on a Centrifugal Compressor used for Isobutene /alkylation refrigeration service at its facility in Bethlehem, PA. This turnaround was scheduled for a duration of two weeks, but thanks to the RMS team's diligent work to overcome hurdles and find clever solutions, the team was able to deliver the completed turnaround two days ahead of schedule.
This centrifugal compressor was a Carrier unit rerated by CONMEC in the early 1990s and again in the early 2000s. RMS' team was able to review the drawings and physical inspection forms on file for this unit created by CONMEC in the two previous operations. This documentation was invaluable to the engineering team who was able to reference these documents during the preparation and execution of this turnaround activity.
In addition to the components captured in the CONMEC drawings, the RMS team was able to reverse engineer components of this compressor that were not previously supported by CONMEC during previous outages. This included the ISO-Carbon process seal housings, stage one impeller eye labyrinth, seal/bearing labyrinths, endplate labyrinth, and wiper rings. The component's composition was confirmed through RMS' XRF analyzer. The reverse engineering was completed with the help of engineering and drafting during the turnaround and did not impact the timeline in the slightest. RMS is now able to fully support this compressor in the future and add these new components to the RMS files ready for use in future operations.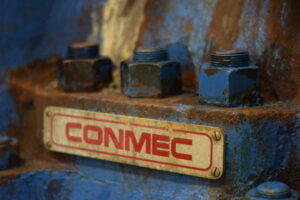 During the turnaround operation, the RMS team overcame several obstacles thanks to the dedication of our team who ran two 12 hour shifts for the duration of the turnaround. The outer casing required a large amount of weld repair due to several indications identified during the inspection. The RMS team also noticed the thrust bearing housing was no longer parallel with the centerline of the compressor. To mitigate this anomaly, the team shimmed the bottom half of the bearing housing. With the fix in place, parallelism was confirmed by bluing the shaft to the journal bearing sleeves. Uniform blue contact was seen along the length of the bearing sleeves thus confirming a successful repair. Lastly, the team reworked the compressor mounting bolt holes utilizing RMS' machining capabilities to accommodate compressor alignment issues in the refinery.
RMS' project management team was on hand for the duration of the turnaround to provide the customer with daily updates on the team's progress and host customer representatives. The Project Manager worked together with the shop, engineering, procurement, and the customer to facilitate an early delivery.